Strawberries, Blackberries, Blueberries, Peaches, Asparagus and Grapes, straight from our Farm.
We will have Satsuma Oranges this fall.
** Hours**
8am-6pm Daily
*Seasonal February- December
Please supervise your children, there are domestic
bee-hives
on the property.
Call for availability:
How to Freeze your Berries
Spread berries without touching each other on cookie sheet and place in freezer overnight. Once they are frozen, put in freezer bags and use as needed. Do not rinse before placing in freezer. To thaw just lightly rinse in colander.
Blueberry favorites -Send us your recipes and we'll share ours.
Blueberry Creme Muffins
Ingredients:
2 cups cake flour
3/4 cup granulated sugar
1-1/2 teaspoon baking powder
1/2 teaspoon baking soda
1 pinch salt
3 ounces cream cheese, cut in cubes
2 teaspoon lemon juice
2 teaspoon vanilla extract
2 Whole eggs
1/4 cup melted butter, hot, about 175°
1/2 cup milk
1 cup blueberries
paper muffin cup liners
Preparation:
Adjust oven rack to middle position and preheat oven to 350°. Line the cups of a muffin tin with 12 paper liners. Set aside.
Combine flour, sugar, baking powder, soda, and salt in a mixing bowl. Stir well; set aside. Using metal blade in food processor, process cream cheese, lemon juice, and vanilla in food processor until smooth. Add eggs and process 15 seconds. Scrape down side of container with a spatula. With processor running, pour hot melted butter through food chute gradually, but within 10 seconds. Process another 10 seconds. Add milk and process 5 seconds. Add dry ingredients to container and mix with 4 to 6 half-second pulses. Add blueberries and fold in with a spoon. Pour an equal amount of batter into each muffin cup, filling each about 2/3 to 3/4 full. Bake in preheated 350° oven for 30 minutes. Cool on rack 15 minutes.
Makes 12 muffins.
Blueberry wine
For winemakers, blueberries are a natural choice for creating a dry, aromatic wine that can be light or full-bodied depending on the recipe.
Full-Bodied Homemade Blueberry Wine Recipe
Ingredients:
20 lbs blueberries (any variety)
2 lb raisins
10 lbs granulated sugar
½ teaspoon pectic enzyme
1 ½ teaspoon acid blend
½ teaspoon yeast energizer
3.5 gallon water
5 crushed Campden tablet
Wine yeast
Preparation:
In large pot, bring water to a boil. Wash and crush blueberries. Remember that you don't need to pulverize the fruit. Rather, the goal is to break the skin so that the yeast can start the fermentation process. Place blueberries in a 7 to 10 gallon primary fermentation container (either food grade plastic or stainless steel). Add raisins, sugar, enzyme, acid blend, yeast energizer, and Campden tablet. Add boiling water and stir to dissolve sugar. Allow liquid to cool until it has reached approximately 70 degrees Fahrenheit. Add yeast, stir, and cover lightly with cloth. Stir daily for one week. Strain pulp and siphon into secondary fermentation container. Glass containers work best so that you can see the clarity of the wine. Rack the wine in three weeks and at 2 months. When wine has become clear, rack again and bottle Let bottles age at least one year before opening.
UNCOOKED BERRY JELLY
Ingredients:
3 cups unsweetened berry juice, fresh* or
frozen (strawberry, raspberry, or blackberry)
4 1/2 cups sugar
1 box powdered pectin
1/2 cup water
Preparation:
Add the sugar to 1 1⁄4 cups of berry juice. Stir thoroughly. Add the pectin slowly to the water. Heat almost to boiling, stirring constantly. Pour the pectin mixture into the remaining 1 3⁄4 cups of berry juice. Stir until pectin is completely dissolved. Let the pectin mixture stand 15 minutes. Stir occasionally. Mix the juice mixture with the pectin mixture. Stir until all sugar is dissolved.
Pour into freezer containers or canning jars, leaving 1/2-inch headspace. Cover with a tight lid. Let stand at room temperature until set (up to 24 hours). Store in refrigerator or freezer.
* To extract juice from fresh berries, crush the berries in a saucepan. Bring to a boil over high heat, stirring to prevent scorching. Reduce heat and cook until soft, about 10 minutes. Pour the cooked product into a damp jelly bag or bag made from several layers of cheesecloth. Allow the juice to drain undisturbed. For the clearest jelly, do not press or squeeze.
Yield: about 6 half-pint jars
Source: University of Georgia in cooperation with the USDA
Blackberry favorites
Blackberry Cream Pie
Ingredients:
Pastry for 9-inch one crust pie
4 cups fresh,or frozen berries*
2 eggs lightly beaten
1/3 cup granulatedsugar
4 tablespoon all-purpose flour
1/4 teaspoon salt
1 teaspoon pure vanilla extract
1 cup heavy cream**
* If using frozen berries, thaw and drain all juice before mixing.
** Sour cream may be substituted.
Blackberry Limeade
Ingredients:
6 cups water, divided
3cups fresh blackberries
3/4 to 1 cup sugar
2/3 cup fresh lime juice
Lime wedges and fresh blackberries for garnish
Preparation:
Blend the blackberries and one cup of water together until smooth. Strain through a fine mesh strainer into a pitcher. add the remaining 5 cups of water, sugar and lime juice to the pitcher. Stir until the sugar is dissolved. pour into ice filled glasses and garnish with lime wedge and fresh blackberries if desired.
Blackberry Cobbler
Ingredients:
2 1/2 cups fresh or frozen (thawed and drained) blackberries (do not use blueberries)
1 cup sugar
1 cup Gold Medal® all-purpose flour
2 teaspoons baking powder
1/2 teaspoon salt
1 cup milk
1/2 cup butter, melted
Cream, whipped cream or ice cream, if desired
Preparation:
In medium bowl, stir together blackberries and sugar. Let stand about 20 minutes or until fruit syrup forms. Heat oven to 375°F.
In large bowl, stir together flour, baking powder, salt and milk. Stir in melted butter until blended. Spread in ungreased 8-inch square pan. Spoon blackberry mixture over batter.
Bake 45 to 55 minutes or until dough rises and is golden. Serve warm with cream.
TY TY Blackberry Wine
*This is great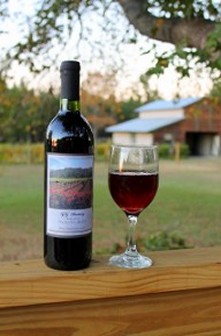 Ingredients:
5 gallons of fresh or frozen blackberries
10 pounds granulated sugar
3 1/2 gallons water
Preparation:
In a clean 10-gallon crock jar or plastic bottled water jar, add the sugar. Heat water to 100° then add to the sugar. Dissolve thoroughly. Measure out 20quarts of fresh, good quality fruit and pour into the sugar and water mixture. Cover the crock with a cheesecloth and secure tightly with butcher's twine or place a wine-making air-lock device in the mouth of a water jar. Place in a cool, dark place and allow to ferment for 6 weeks. At the same time each week stir the mixture in crock or shake the bottle well to blend the ingredients. When done, strain the wine through a few layers of cheesecloth 2 to 3 times, then bottle and store in a cool dark place. (call for more details) ask about yeast types. Sample tasting available
Peach Recipes
Peach cobbler
Ingredients:
4 cups peeled, sliced peaches
2 cups sugar, divided
1/2 cup water
8 tablespoons butter
1 1/2 cups self-rising flour
1 1/2 cups milk
Ground cinnamon, optional
Preparation:
Preheat oven to 350 degrees F.
Combine the peaches, 1 cup sugar, and water in a saucepan and mix well. Bring to a boil and simmer for 10 minutes. Remove from the heat
Put the butter in a 3-quart baking dish and place in oven to melt.
Mix remaining 1 cup sugar, flour, and milk slowly to prevent clumping. Pour mixture over melted butter. Do not stir. Spoon fruit on top, gently pouring in syrup. Sprinkle top with ground cinnamon, if using. Batter will rise to top during baking. Bake for 30 to 45 minutes.
To serve, scoop onto a plate and serve with your choice of whipped cream or vanilla ice cream
Call for availability: 229 821 0746
Directions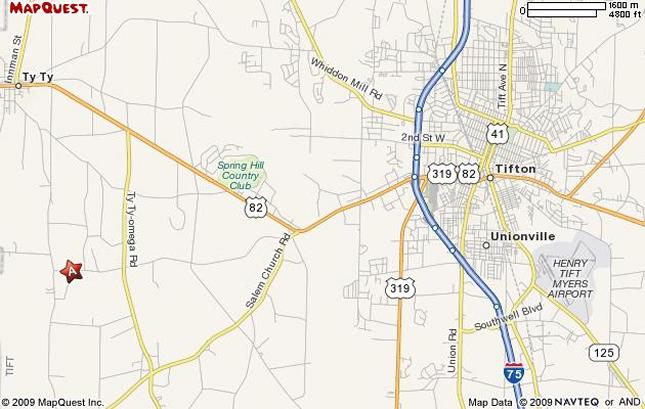 Our farm is located 6.5 miles from I-75 Exit 62, 15 miles from Moultrie 48 miles from Valdosta, and 38 miles from Albany GA
Direction from I-75 Exit 62
West on Hwy. 82 for 2.1 miles.
Left onto Salem Church Rd. for .2 miles.
Right onto William Gibbs Rd. for 4.2 miles.
Farm on right.
Alternate from I 75 Exit 62
West on Hwy 82 for 5.5 miles.
Left onto Ty Ty-Omega Rd. for 2.2 miles.
Right onto William Gibbs Rd. for 1.2 miles.
Farm on the right.
Direction from Albany Hwy 82 East
To TY TY then Hwy 82 E. for 2.0 Miles.
Right onto TyTy-Omega Rd. 2.2 miles.
Right onto William Gibbs Rd. for 1.2 miles.
Farm on right.
Directions from Omega Hwy 319
Left onto TY TY-Omega Rd. 6.3 miles.
Left onto William Gibbs Rd 1.2 miles.
Farm on the right.
Watch for our farm signs